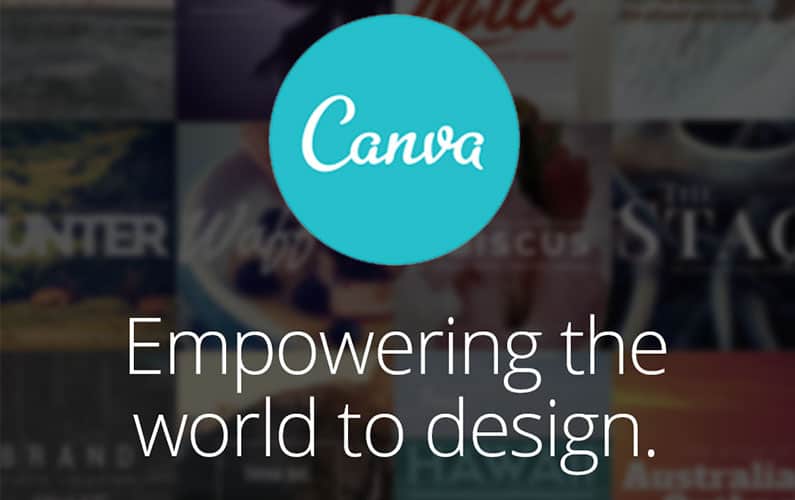 Our Classroom Expectations Poster; Created in Canva
Canva's infographic template (see how many there are to get you started on the left). We used this template as a model for our own Science Unit on Climate Change.
Canva
is a brilliant online graphics program that has both free and paid elements available. It has significantly changed the way my 5th graders create and design visuals. It's also great for the classroom teacher to use as well from eye-catching posters to labels for baskets to informative (& not boring) notices for parents! This tool has become our number 1 go to tool for visuals now as it's ease of use allows students to spend more time on the creative process and less time on "learning" or "mastering" the tool and all it's effects.
How Does it Work in the Classroom?
Each student can create a student account. (I'm lucky that my students have their own school email accounts). Alternative solutions: Canva offers the option of using your google account to log in – so if you're school is using google docs (but doesn't have the gmail "switched" on for students – this is the perfect alternative!  No google accounts? Consider asking parents at the beginning of the year if all students can create a gmail account or have an email account – I'd do this at a back to school night or create some sort of informative presentation for parents to watch that explains how useful having an email account will be for the year and how we plan to use it and how you'll be teaching students to use their email account responsibly and respectfully. I've done this before, and parents have been very receptive to the idea especially after having the "why" explained to them. Having an email account to sign up for online accounts has been invaluable for my students each year.
Once students are logged in, they can decide on the type of layout and/or size of the layout before beginning the design process. Canva makes this very easy by providing standard templates for brochures, posters, book covers, logos and so much more!  There's even the ability to create a custom size for the occasional odd-sized project. Next students select a template to use or simply create a new image from scratch.  Some templates, icons and photos cost money, but there are plenty of amazing FREE elements to create dynamic visuals without the need to spend any extra $$!
Canva makes the next step of adding photos, texts, and graphics very simple. It's a drag and drop method. (I'm thinking this would be super easy for Grade 2-3 students – so please leave a comment if you have tried it with them!) It's also quite easy to add photos from your own computer or from Canva's own database (again— not all are free), text, borders, shapes, and other graphics to create the perfect visual for a project.
What's great for students is that Canva automatically saves creations so that you can go back to them at any time to revise or re-download as needed. When students have finished a project, they can select "download" and this saves the image to use in whatever context needed. This feature was exceptional for our student blogs! Thanks to Canva, my students are able to create professional images super easy!
Handy Graphic Design Learning
Canva has a
Graphic Design Tutorials
section (the link is at the bottom left after you sign in). From Getting Started with Canva Essentials to Backgrounds, Fonts and Colours – there's even a section on Branding!  You can also speed up your design process with Advanced Tips – Canva Shortcuts
Part 1
and
Part 2
as well as
Canva Tips and Tricks.
As a class we made our way through the mini-challenges – learning through doing – it was a perfect way to learn together and from each other.  I grouped the students in fours and set them a tutorial to watch together. It was their job to "master" the learning in the tutorial so that they could "teach" another group of 4 what they learned. During this time, I assessed my students on their collaboration skills and kept an eye out for my
techxperts
for Canva. I chose tutorials that taught students about design and layouts rather than the "how to use" Canva tutorials. Canva is so user-friendly that 5th graders easily worked out how to drag and drop, change fonts, colours etc so we didn't need to teach each other these skills.
Ways We've Used Canva in the Classroom
Covers
Books, blogs, projects, or portfolios (in print or electronic).  Using the optional templates provided by Canva shows students (and teachers) how to most effectively display key information in order to communicate the topic while also grabbing attention.
Infographics
 I'm a huge fan of infographics because they have the ability (when done well) to present visually appealing key concepts and information on various topics. I've starting to use Infographics as a way to assess student understanding of key concepts and facts in various subjects or at least having it as an option of a way that students can present their key ideas, learning and/or understandings on a topic. Canva provides templates that are very user-friendly in order to do this.  I love having a different & creative way to assess student learning.
Charts and Graphs
Do your students need to make any graphs and charts in order to measure, synthesize, analyze, or showcase information?  Mine do all the time – especially in Maths. Canva has several options that are visually appealing and at the same time provide effective visuals of measurable information.  After using the chart feature in Excel and Google's Sheets, Canva's charts are graphs were super EASY!
Photo Collages
By far one of the most popular uses in our classroom! Photo collages have been part of presentations to blogs to portfolios to projects.  There are several photo collage templates that make it easy to create stunning photo collections that really make an impact.  5th Graders loved these templates because they were all drag-and-drop style, so arranging and organizing information visually is very easy for them.
Our #thankful for project was a fun favourite – many students uploaded their own images, to make stunning, thought-provoking #thankful for collages. We didn't print them out – just displayed them on screens and did a gallery walk when we were ready to present.  This project was also a writing unit – before the students used Canva to create their #thankful for collage, they had to explain in writing why they were thankful for the things that made it into the collage. Limiting the collage to 3 images only help produce some amazing collages and even more amazing writing.