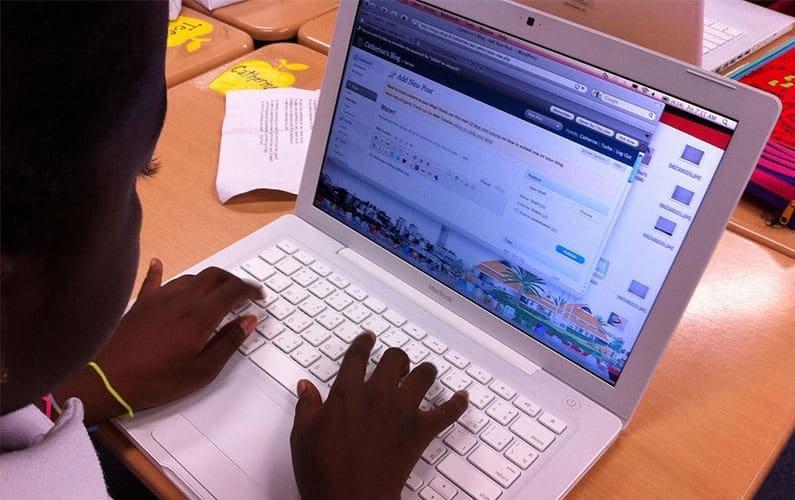 Connecting Students Through Blogging
Part of the series: Teaching In A Connected Classroom (cross-posted for Eduro Learning)
A great way to start connecting your students to each other and to others outside the classroom at the start of a new year is to begin blogging. Not only can blogging give students a voice, but it also has the potential to change the way they write.
Over the years I've discovered through my own trials and those of
teachers I've been fortunate to work closely with
, ten tips that may help get blogging starting in your classroom and keep it sustainable throughout the year. Most apply to individual blogs with your students and/or blogging together with students on a Class Blog.
#1  Decide on your why (the purpose)
It's important to know why you want a class blog or why you want students to have their own blogs.  When we know the why (to anything), it's so much easier to make decisions about what and what not to do, and it will be much easier to get students excited about blogging with the goal of sustainability.  Don't move onto the how, until you know the why! (It comes in handy for #3)
This one might end up being entirely up to you or you may not have much of a choice.  I've been fortunate enough to work at schools that hosted WordPress on their own servers.  When I first started out with a class blog, however, I used
EduBlogs
(free version), and then 
WordPress
(free version) when my students began blogging individually.  There are other alternatives out there such as
Kidblog
or
Weebly
which many teachers use with great success.
In order to receive support from all stakeholders, you need to check in with those around you. Principals, Tech Coach/Co-ordinators, and of course your parents.  It's important to be ready to explain what you are doing and why (refer #1).  I shared a
blogging/podcasting contract
with my parents and also held a parents meeting so that any questions/concerns could be asked and answered.  To date, I've not had any parents say No to their child blogging and I'm sure it's because of #1, knowing the why and because of the transparency of what we were trying to achieve with blogging.
#4  Teach Quality Blogging
#5  Discuss Citizenship – all.the.time
Before we even begin blogging, we look at and discuss safety online and citizenship – what does it mean to be responsible and appropriate? This is part of a bigger discussion that covers not only online behaviour but offline behaviour.  It just so happens that it's not just those that are specific to blogging – and it's like quality blogging & commenting – an all-the-time discussion.
Teaching your students to properly comment is just as important, if not more important as teaching your students about writing quality blog posts.
As Pernille Ripp, from Blogging Through the Fourth Dimension, mentions …
In order for blogging to be effective, comments are needed, but if students don't know how to properly comment they will lose out on part of the experience. We discuss how to thank people, how to answer their questions, and most importantly, how to ask questions back. This is all part of common conversational knowledge that all kids should be taught any way.
Everybody starts somewhere right? Whether you start out with a class blog first, or dive head first into students having their own blog.  Be realistic about how much you want to be posting.  We always started with an introduction post of some sort like
this one
or
this one
(which was fun and really encouraged comments).  At first, we posted to our blogs once a week.  It was regular and it was consistent – both of these things are important when you're building an audience. (See #8)
There is no doubt that the global connections made with students from all over the world are what inspired and encouraged my students to keep blogging.  Reach out to a colleague at another school and ask if their students can read and comment on your blogs – maybe they are blogging too and you can help motivate them too! Have a go at 
QuadBlogging
 or use
twitter
to help you and your students connect to others.  Keep
a flag counter
 in your sidebar to help keep visitors to your blog (and your students' blogs) visible and motivating!
#9  Allow personalisation (making it their own)
All students love to explore their blogs,
playing with themes
, colour and font!  This makes for a really great lesson on Design when they teach each other how to do anything fancy and also let each other know when font or colour choices were poor. It's a perfect opportunity for students to start thinking about creating their online identity too. (Don't forget to teach your students about
Creative Commons and giving attribution
for images they use in their blog posts! – see #5)
Rome wasn't built in a day – neither will your blog content or your blog audience!  It's an on-going process that can at times seem more trouble than it's worth, but at the same time be so beneficial for students – especially those students who's voices can be hard to hear above others.  Stick with it, even when the going gets tough and time pressures seem overwhelming against you.  It's worth the effort, honest!
Already blogging with your students?
What tips and/or recommendations do you have?  Please share in the comments below!