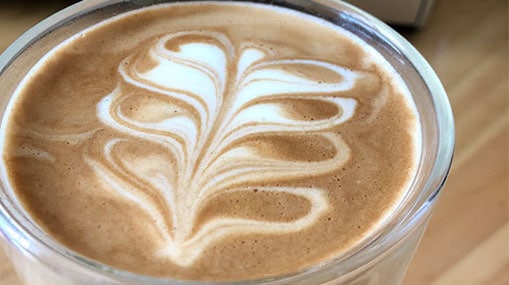 I've been watching (studying) the amazing and generous barista
Dritan Alsela
 and his equally helpful assistant Mariette (?) via their videos (originally FBLive Events) to learn how to latté art. It's been fun (aka hilarious) posting my efforts on
instagram
to celebrate my failures but also track my learning progress over time. It's turned into a bit of a game with my friends helping
#guessmylattéart
(that's where the hilarious part comes in).
As I reflect on my learning so far, I wanted to share the advantages of learning in this way for me. Thanks to today's technology access, this way of learning is becoming more and more popular and we're finding that kids are spending a lot of their own time learning to do something they're interested in and enjoying the sense of accomplishment when done.  As an educator, I love the idea of harnessing this in our classrooms through exploring Genius Hour, a take on Google's 20% time or even just an afternoon (every 10 or so days) of elective learning!
These are the advantages I've discovered for myself:
Just in time learning
Perfect to fit into my day when I can. Life gets incredibly busy but more and more I believe it's important to dedicate time to one's own learning whenever or however we can.
Interest and motivation
I chose to spend time learning lattéart because I wanted to learn it. I had an interest and thanks to YouTube, I was able to find some very good tutorials that helped keep me interested and motivated to learn more.
Customisable
Pause, play, repeat – the best features of video. I can do this as much as I need to. Learning needs to be customisable. What works for you might not work for me. What takes me a short amount of time, might take you longer. Video makes learning customisable in so many different ways – we need to harness this more in the classroom.
Visual and audial combination
I can see what to do. I can hear the instructions. Excellent combination plus I can also see, hear and DO at the same time.  I'm much more likely to enjoy success with all three.
Access to an expert
Rather than try to watch a barista at work down at my local coffee shop (and annoy them while they are busy) – I have access to a super-friendly and generous expert who is taking the time to share their skills with me.
Importance of sharing the learning
For accountability, motivation, and encouragement, I use my social media channels (instagram and facebook) to share my progress with friends. This makes me smile and reminds me just how creative and imaginative my friends are! It also motivates me to try harder and reminds me it's ok, and part of the learning process, to fail. By sharing I show that I'm still learning and that I'm not afraid to try something new.
So what are you learning to do?
I'd love to hear/see what it is – please share in the comment section!
Who knows, I may encourage someone else to give it a go too! If you are keen to learn LattéArt – here's my LattéArt YouTube Playlist
Today's Key Learning from the Barista Tutorial I watched today
Clean my portafilter with a brush
Tamp once and turn
Extract the coffee before doing the milk
Perfect temp: 60-65° for the milk (Don't need to swirl the milk pitcher to warm it)

 The milk must be right otherwise you can't lattéart.

Use two jugs – tip off half the milk into another jug
Bang the jug to get out the bubbles
Hold cup on an angle
The angle of the pitcher is parallel to the angle of the cup
Pour high first in small tight circles – prepare the surface – never touch the sides of the cup, swirl in the centre – don't break the surface
Then go down closer with the spout and draw on the surface
Last but not least, I have to share Dritan's valuable advice (and take note for myself)
Don't want too much too fast – start with and master the heart! Then progress to the rosetta, then try the tulip.
So it's back to the heart I go …… but I'm feeling confident, armed with more knowledge and excited to try again! (Stay tuned to #guessmylattéart on instagram!)